Guess who bought a new tarot deck during Mercury retrograde?!
Typically this would be… interesting timing to buy anything new, particularly something you're expecting to drive any sort of communication. But this deck, the Next World Tarot from artist Cristy C. Road, came into my life in a very retrograde sort of manner.
I first saw the deck months ago, back in February when you could still visit a shop and actually sift through the demo decks with your germy hands. I was torn between two decks that day and ended up picking the beautiful and expressive Crow Tarot — and wrote in my journal that very night that I hoped the Next World Tarot would come into my life again at some point.
Yesterday saw a lot of post-pandemic firsts for me, including my first visit to a bookshop. Sadly it wasn't my beloved Alley Cat (which I think will reopen soon!) but the affiliated and also-awesome Dog Eared on Valencia. On my way there, I passed by a shop I'd never seen before called Silver Sprocket.
Silver Sprocket is an indie publisher, gallery, and comics shop, and sells all kinds of absolutely amazing prints and comics. I could spend hours there. I gave a lingering look through the window and remembered that they had some association with Next World Tarot (naturally I'd googled the deck after not buying it) and would possibly still have some decks for sale.
I bought the books I'd set out to get at Dog Eared (hell yeah, the Broken Earth trilogy is now in my permanent collection!) and circled back immediately to Silver Sprocket; even if they no longer had the tarot deck in stock I knew I wanted to check it out anyway.
They had a single deck propped up! It looked like it had been opened and I wondered if it was their very last deck. But then I took it over to the register and was glad to see a whole stack of shrink-wrapped decks. The person working there told me they print the decks themselves, and added that everyone depicted in the cards is an actual person who posed for the project. No wonder I felt something different about this deck's energy; each card has the intensity that comes along with any good portrait.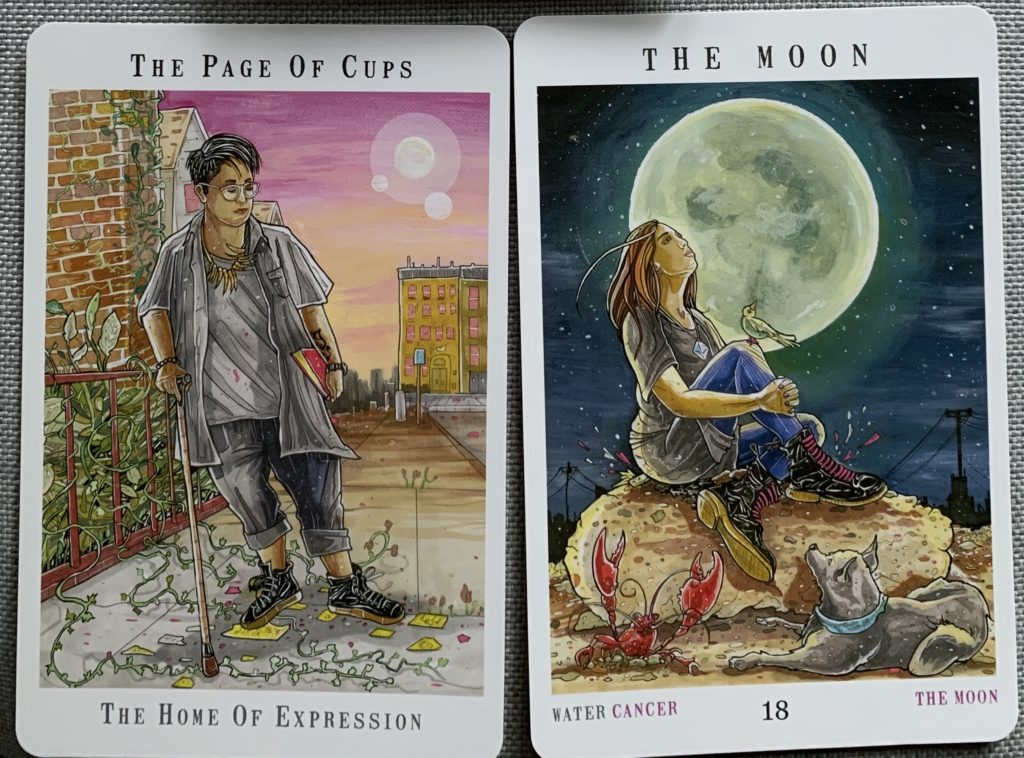 The deck is large and will be unwieldy to shuffle, so I don't know if I'll use it for actual divination; I think more likely I'll refer to it to get expanded meanings for cards I pull from other decks. The interpretations in the booklet that comes with it are a wonderful reference, too — very original, and empowering. I can't wait to use it at the next tarot circle.
That I ended up buying this during Mercury retrograde, and on an Aquarius moon, seems apt for this deck. Do you give any thought to the astrology of the moment when you welcome a new tarot deck into your life? I'd love to hear about it!